MasterClass
Train The Trainer
Rated globally as the most practical and intensive trainers' training program.
"This is the best trainers' program I have ever attended in my whole life journey. Thanks Billy for your selfless sharing and experiences. The journey is going to be awesome. It's going to be a great journey with your guidance and sharing. " – Chan Ngee Key (Trainer)
The Starfish Story
One day a man was walking along the beach when he noticed a boy picking something up and gently throwing it into the ocean.
Approaching the boy, he asked, "What are you doing?" The youth replied, "Throwing starfish back into the ocean. The surf is up and the tide is going out. If I don't throw them back, they'll die.""Son," the man said, "don't you realize there are miles and miles of beach and hundreds of starfish? You can't make a difference!"
After listening politely, the boy bent down, picked up another starfish, and threw it back into the surf. Then, smiling at the man, he said… "I made a difference for that one."
– Original Story by Loren Eisley
Trainers are like the little boy. Fueled by passion and armed with knowledge, we set out to change the world.
Passion and Knowledge, however, can only bring you so far. That is what the MasterClass Trainers' Training Program is all about.
Why Choose Us?
Why settle for less when you can learn from the best? Whether you are already in the training business or are thinking about becoming a trainer, and want to know the when, what, who, where, why and how, learn from one of Asia's top corporate trainers, International Speaker and Master Trainer, Dr Billy Kueek.
The MasterClass Train The Trainer program is a generic program that trains aspiring trainers to become inspiring trainers. It is not content-specific, so Billy will share all the tools and techniques that he knows and uses in his own trainings, as well as share essential business skills to excel in this industry. In other words, the learning curve for participants is shortened so they don't have to learn from their own trial & error – which can be costly.
Like the best professional trainers/ speakers, you too can enjoy satisfying career, attain your goals & ultimately achieve your dreams… all the while empowering others!
With this training, Train The Trainer Program, you can desire and aspire to:
Define training needs for maximum buy-in & effectiveness
Design accurate course content
Develop 5-Dimensional Lesson plans for Maximum Results
Deliver sessions that motivate & maximize transfer of learning
Discover the most powerful combination of learning strategies
Differentiate your training performance
Demonstrate training mastery that even other trainers talk about
Who Should Attend?
Whether you are a member of a Human Resource Department, a manager with subordinates, a budding motivational speaker, an aspiring trainer or entrepreneur, you MUST attend this program.
Aspiring Trainers
Corporate and Institutional Trainers
Human Resource Professionals
Supervisors, Leaders & Managers
Company Directors & Business Owners
Anyone who desires to enhance their skills as as peaker/presenter/trainer
Course Objectives & Benefits
Gain a Practical Overview of the training function.
Equip you with Critical Success Strategies.
Enhance understanding of Adult Learning Principles.
Learn practitcal Training-Needs-Analysis approaches.
Design Effective Course Outlines.
Increase results with Audience Management Strategies.
Develop effective training with the 5-D Lesson Plan©.
Learn and Apply the best combination of Training Methods.
Deliver Dynamic Icebreakers & Openers.
Maximum Learner Participation.
Communicate Clearly, Concisely & Convincingly.
Engage participants with Stories, Metaphors & Humor.
Answer professionally with Question Fielding Techniques.
Reinforce learning with Powerful Closers.
Recognise & Improve on your Current Skills Level.
Discover Practical Evaluation Tools.
Transform learning into Mastery with Micro-Training Labs.
Strengthen Confidence, Credibility & Charisma.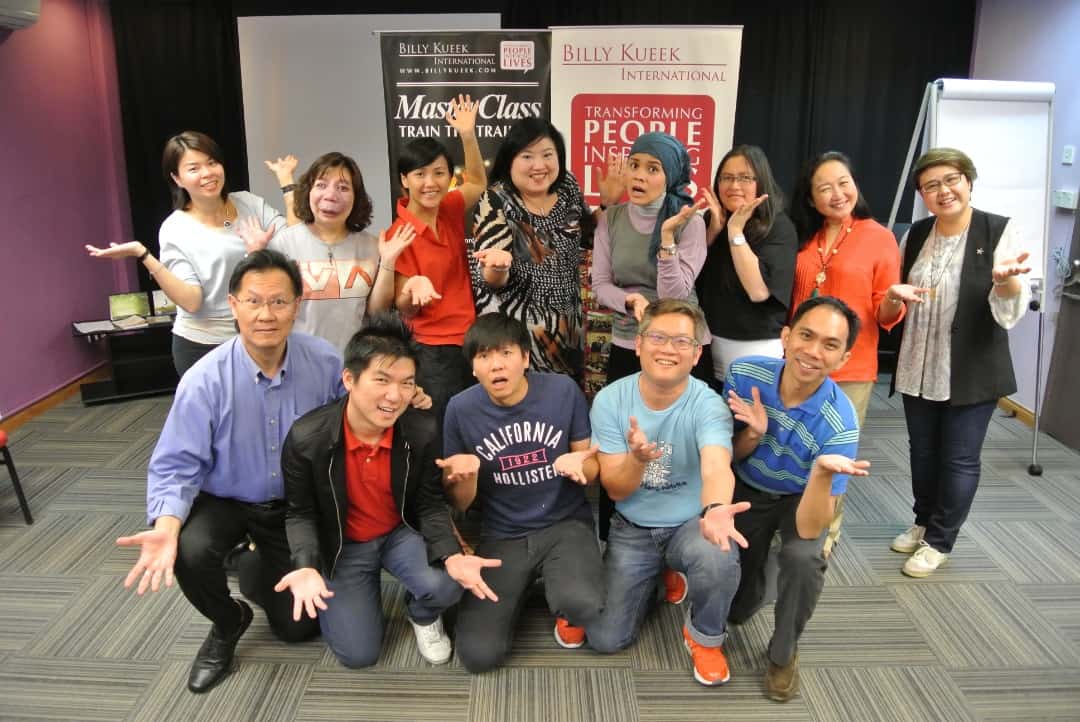 See What Our Graduates Say
About MasterClass Train The Trainer
Billy is an amazing educator. Never have I met a trainer who is truly dedicated in giving his best and all. Billy and his wonderful team have truly inspired me to empower the world with knowledge as Billy has empowered me. Very well designed program. Thank you Billy and Kit 
– Jit Puru
Whatever you do, do not change the style of delivery. Content was relevant and close to real life. Communication & Instructions were clear and easy to understand. Most important of all, the mini-exercises & review sessions reinforce learning. – Penny Choong
Great program for aspiring and seasoned trainers – breaking down the program into the chunks and lots of learnings to create excellent breakthrough results – Wesley Chan
Transforming People Inspiring Lives
Asia's 1st ABNLP approved Institute with 2 NLP Master Trainers focused on making positive changes & creating mindsets of excellence
BILLY KUEEK INTERNATIONAL LLP (SINGAPORE)
Block 146 Bishan Street 11 #04-55
Bishan Green Singapore 570146.
Billy Kueek International Sdn Bhd (Malaysia)
VO2-08-13A
V Office 2, Lingkaran SV,
Sunway Velocity
55100 Kuala Lumpur
Malaysia
Phone:+65 8388 0500 (Singapore)
Phone:+6012 649 6500 (Malaysia)
Email: office@billykueek.com
Phone:+65 8388 0500 (Singapore)
Phone:+6012 649 6500 (Malaysia)
Email: office@billykueek.com
Billy Kueek International  LLP (Singapore)
Block 146 Bishan Street 11 #04-55 Bishan Green Singapore 570146.
Billy Kueek International Sdn Bhd (Malaysia)
VO2-08-13A
V Office 2, Lingkaran SV
Sunway Velocity
55100 Kuala Lumpur
Malaysia