ABOUT US
Originally formed as BiK & Associates, a company registered and incorporated in Singapore in 1998, and operating as Billy Kueek International since 2008, we are equipped with expertise, knowledge and capability having been involved in HR consulting projects, training programs and keynote speeches across industries for Multi-National Corporations and World-Class Organizations.
We are committed to the highest standard in the delivery of our services through stringent disciplines. Our trainers and consultants bring to you diverse background, with exposures across industries and nationalities, ensuring a repertoire of skills to execute objectives of projects whilst maintaining core skills set to ensure quality.
Dr. Billy Kueek
INTERNATIONAL SPEAKER  & MASTER TRAINER

Transforming People, Inspiring Lives 
is the maxim that drives Master Trainer & International Motivational Speaker, Billy Kueek, on his continuing quest to empower you so that you too can empower others.
With over 25 years in the industry, Billy has inspired, motivated, coached and train over 1 million professionals in over 50 countries across varied industries to reach their potential and live their dreams.
 Whether he is speaking to an audience of ten or thousands or consulting in the backend, Billy will engage, equip and empower.
Billy's approach and passion is evident as he delivers his wide repertoire of topics that includes customized Sales & Negotiation, Leadership and Motivation, Influencing and Presenting, Creative Thinking, NLP and 50 other programs.  His client list includes World-Class organizations, MNCs & top achievers of industries.
Billy is widely acknowledged as The Trainer of Master Trainers & Master Coaches having trained thousands of trainers & speakers from public classes, numerous companies & organizations, all over the world.
A firm believer of continuous learning, Billy is the first certified Hypnotherapy Master Trainer in South-East Asia, by the American Board of Hypnotherapy.  He also has the unique achievement of being the World's First certified NLP Master Trainer by both the American Board of NLP and NLP University, placing him as a leading NLP Master Trainers and Hypnotherapy Master Trainers in the world.  Billy holds a degree in Organizational Psychology, an MBA and a Doctorate degree in Business Administration.  His professional certifications include:
NLP Master Trainer (ABNLP & NLPU)
Master Trainer in Hypnotherapy (ABH)
Master Trainer in Time Line Therapy™ (TLTA)
Administrator of various Personality Profiling Tools

Instructor in Emotional Intelligence (6 Seconds) and many more
Billy uploads his live streams on YouTube & also writes for organizational newsletters, periodical, management journals & makes regular on-air appearances as guest speaker on Radio Stations in Asia.  He was featured on TV in Channel U's Primetime Personality Profile segment and his writings are published in newspapers all over Asia.
Billy also authors, produce and develop learning/coaching tools, in addition to hundreds of inspirational quotations.
Billy has also produced, presented and authored these products:
With style and substance, Billy Engages, Entertains and Empowers.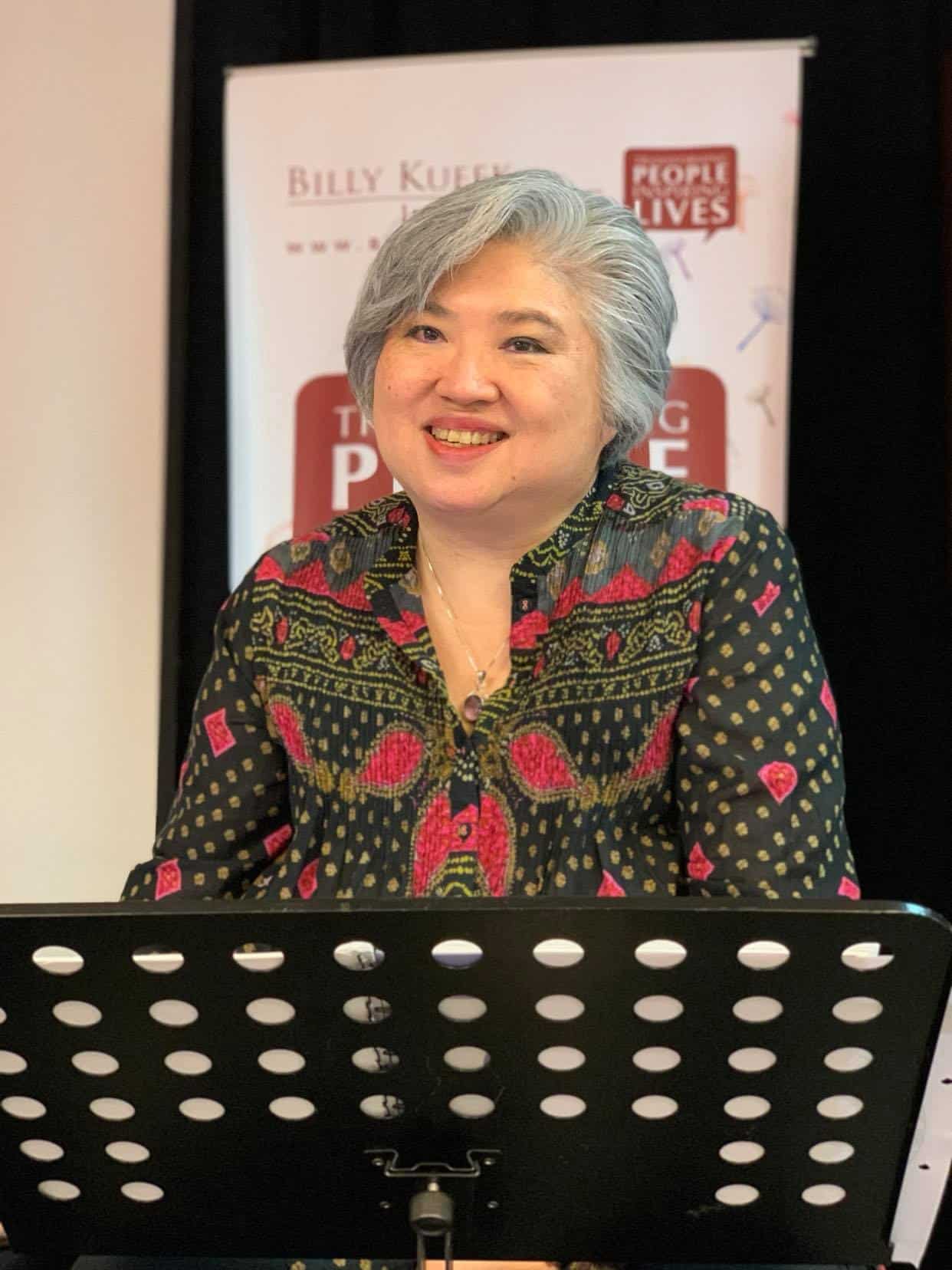 Lim Kit Wan
MASTER NLP TRAINER

Without Passion, Life is only Motion! ~ Dr Billy Kueek

This quote by her mentor, Billy, perfectly sums up Kit in all that she does. Whether she is speaking in front of an audience of ten or a thousand, during training, or writing, or just cooking dinner for friends, her passion is unmistakable.
Kit is a social entrepreneur with the desire to change the world, one child at a time. She believes in making a difference for others in everything that she does and utilizes the techniques, skills and knowledge she has learnt over the years to help others be the best they can be.
Her passion to share her knowledge has led her to become a trainer, inspiring and empowering her audiences in a wide range of topics, including NLP (Neuro-Linguistic Programming), communication and presentation skills as well as entrepreneurship.
A chartered accountant by training, Kit is a member of the Institute of Chartered Accountants in England and Wales (ICAEW) and the Malaysian Institute of Accountants. She was a mentor for the ICAEW/TalentCorp Women in Leadership program.
Kit is the only lady NLP Master Trainer in Asia certified by both the American Board of NLP and NLP University. She has recently published her first book, 'From Distributor to Diamond'.
She is the Country Director of Billy Kueek International Sdn Bhd and the principal trainer for Billy Kueek International.
Her qualifications include:
NLP Master Trainer (ABNLP & NLPU)
Master Time Line Therapy™ Trainer (TLTA)
Hypnotherapy Trainer (ABH)
NLP Coach Trainer (ABNLP)
MasterClass Trainer (BKI)
ACA (ICAEW)
B.Com (Acc)
Kit is the Country Director of Billy Kueek International Sdn Bhd.
BRYEN PANG
SENIOR BUSINESS DEVELOPMENT- NLP TRAINER

"For things to change, we must change first."
Bryen Pang has a diverse training facilitating background that spans over more than 6 years. He is an NLP Trainer and he was trained by two NLP Master Trainers, Dr Billy Kueek and Ms Lim Kit Wan. He comes from a wide range of industrial background, experienced in the F&B, warehousing and the travel & tour services industry before joining the event management, training & consultancy industry.
He has a strong desire to enable you to do what you do best as well as helping others to do their best, fulfilling the desires of your heart and make everyone a winner is what determined Bryen's path to becoming a trainer. In every training he conducts, Bryen promises a meaningful learning experience for his participants whether it is in NLP, Sales, Coaching, Presentation, Team building or other soft skills trainings that he leads.
His qualifications include:
NLP Trainer (ABNLP)
NLP Master Coach (ABNLP)
Time Line Therapy TM Master Practitioner (TLTA)
Master Hypnotist (ABH)
MasterClass Trainer (BKI)
EC Tan
TRAINER AND COACH
With more than 30 years of experience, E C Tan realized that he wanted to be more than just an engineer. More than conducting training in aircraft systems, safety and human factors, he wanted to develop and inspire others to their full potential. As stated in his personal quote, "The wheels of change will keep on turning. If you don't get on, you will get run over." he recognized the need to change and improve. Thus he made the decision to become a trainer, seeking new challenges and opportunities to motivate and excite others. He has also embarked on a journey to coach others.
As a Certified Master Class Trainer, he is recognized as one of the best trainers in aviation maintenance as he engages, empowers and excites his participants in his sessions with Malaysia Airlines, ST Aerospace (Singapore) and Emirates Airlines (Dubai, U.A.E).
His thirst for knowledge led him to become a Certified NLP Trainer (ABNLP), Master Time Line Therapy™ Practitioner (TLTA) and Professional Master Clinical Hypnotherapist (ABH), as well as Certified NLP Master Coach (ABNLP) . With his additional knowledge, he is constantly applying NLP techniques and coaching skills in his training and coaching to ensure that the participants derive the greatest benefits from the programs.
In his personal life, he has also seen the impact NLP has on his daily life, on his family and friends, and is able to help his children develop to their full potential.
E C is also a consultant in sound reinforcement systems and is a Competent Communicator and a Charter Member of the Phoenix Toastmasters Club.
His qualifications include:
NLP Trainer (ABNLP)
NLP Master Coach (ABNLP)
Time Line Therapy TM Master Practitioner (TLTA)
Master Hypnotist (ABH)
MasterClass Trainer (BKI)
JESSICA WONG
"It's about finding the happiness that works for you and be your best self."
Since young, Jessica has always been intrigued by how the human mind works and why they behave a certain way. She desires to help people change their unhealthy and unhelpful behavior to become a better, more positive and happier one. She is passionate in helping people in need, coaching them to live their own life and not having one that is shaped by other people expectations and beliefs.
Growing up, she constantly put everyone else needs first and ignore hers. By seeing others happiness, she was happy. Others not happy, she also become not happy. All that change after she attended Live by Design Practitioner and Master Practitioner. Jessica realized her happiness should never be dependent on someone's else mood. And most importantly, she learnt that self-love is not selfish. Self-love is not guilty. Self-love is not wrong. Jessica considers herself now as worthy, loving herself more and imperfections makes her unique.
Jessica is dedicated to make a difference in people lives and help them understand the importance of self-love and embrace it. She is determined in coaching others to create their own happiness and not settle for less than what they are worth. You should be a priority. Not an option, a last resort, or a backup plan. Jessica has over 4 years of coaching experiences and have been continuously attending courses to build on her knowledge and toolkit to support people who wants live their life with more enthusiasm, more energy and more passion.
Her qualifications include:
Health Psychologist

NLP Master Practitioner
NLP Master Coach
Time Line Therapy Master Practitioner
Hypnotherapy Master Practitioner
Aloysius Gregory
"Be somebody to somebody, not everybody to everybody." – Dr. Billy Kueek
Helping others break-free from their barriers, achieve their personal goals and be themselves as they were meant to, inspires Aloysius to be the best version of himself. Enabling and empowering those who are willing to embrace change and make a difference one step at a time is the cornerstone of why Aloysius does what he does.
Passion and drive are key to achieving success and the only real hurdle comes from within. One of the mottos Aloysius lives by is 'there is no failure, only feedback'. When the power in this statement is understood, we can choose to no longer second-guess ourselves and seek out our true potential.
Prior to joining the BKI team, Aloysius spent nearly 10 years in the Corporate world with experience in the areas of Marketing, Communication, Operations, Negotiation, Customer Relationship Management and Event Management. He enjoys managing relationships and works tirelessly to ensure his clients achieve results that exceed expectation. Having worked in and led cross-functional, multi-cultural teams, Aloysius' strength is building strong collaborative, interpersonal and leadership skills within his teams.
Aloysius is passionate about serving society and making a difference not only to the community he lives in, but whoever he comes across in daily life. He loves to share what he has learned over the years and is always willing to guide those who come forward for support. Another one of his goals is to empower and educate as many children as he can and equip them with tools to navigate life safely and effectively. As an NLP Trainer, Aloysius runs NLP Training and also offers Coaching services.
His qualifications include:
NLP Trainer (ABNLP)
NLP Master Coach (ABNLP)
Time Line TherapyTM Master Practitioner (TLTA)
Master Hypnotist (ABH)
Applied NLP in Business – Marketing (ABNLP)
MBA, Marketing (Symbiosis International University, India)
B.Com, Banking & Finance (Pune University, India)
Diploma in Liberal Arts (Symbiosis School for Liberal Arts, India)
Transforming People Inspiring Lives
Asia's 1st ABNLP approved Institute with 2 NLP Master Trainers focused on making positive changes & creating mindsets of excellence
BILLY KUEEK INTERNATIONAL LLP (SINGAPORE)
Block 146 Bishan Street 11 #04-55
Bishan Green Singapore 570146.
Billy Kueek International Sdn Bhd (Malaysia)
VO2-08-13A
V Office 2, Lingkaran SV,
Sunway Velocity
55100 Kuala Lumpur
Malaysia
Phone:+65 8388 0500 (Singapore)
Phone:+6012 649 6500 (Malaysia)
Email: office@billykueek.com
Phone:+65 8388 0500 (Singapore)
Phone:+6012 649 6500 (Malaysia)
Email: office@billykueek.com
Billy Kueek International  LLP (Singapore)
Block 146 Bishan Street 11 #04-55 Bishan Green Singapore 570146.
Billy Kueek International Sdn Bhd (Malaysia)
VO2-08-13A
V Office 2, Lingkaran SV
Sunway Velocity
55100 Kuala Lumpur
Malaysia